MEDIK8 X PADI AWARE FOUNDATION™: MAKING WAVES TOWARDS OCEAN CHANGE
Back in October 2022, we launched our updated sustainability blueprint. This 4-pillar strategy outlined the areas we were confident we could bring about the greatest positive change to the world around us. One core pillar - Social Investment - saw us pledge the higher of 0.25% EBITDA* or £300,000 between 2022 and 2026 to positively contribute to society through supporting charitable causes, with the ultimate goal of ensuring an even greater impact on our other 3 pillars: Climate Action, Waste Reduction and Ethical Business.

We are now very proud to announce our first charitable partner: PADI AWARE Foundation™.
WHY PADI AWARE FOUNDATION™?
This partnership was a clear choice for us as we share PADI AWARE's passion to drive local action for global ocean conservation through a comprehensive, science-backed and results-driven approach. Like us, they put science at the heart of their programmes and endeavour to work collaboratively with others to bring about greater positive change. As a brand, we have always had a natural affiliation with our planet's oceans. Our founder, Elliot Isaacs, is a scientist as well as a PADI Master Scuba Diver, so has always passionately rallied for ocean conservation.
At Medik8, we are acutely aware of the huge role the ocean plays in carbon sequestration and climate regulation, as well as fostering biodiversity and supporting coastal communities. We are, therefore, very proud to have partnered with PADI AWARE Foundation™ to support their amazing work in restoring and protecting our planet's most productive ecosystem, as well as helping to tackle some of the biggest issues facing the ocean today. With access to a comprehensive network of international grassroots organisations, PADI AWARE truly understands what's needed on the ground to generate the greatest impact. Together we can make a positive impact on ocean conservation including solutions against marine debris, climate change action, coral restoration and protection of endangered marine species.
TAKING ACTION
Our partnership with PADI AWARE Foundation™ will begin with us sponsoring 4 core projects through their Mission Hub Community Grant Programme. This programme is a cornerstone initiative designed to accelerate participation, education and advocacy for ocean protection. It provides direct financial resources to PADI Mission Hubs and community-based, non-profit organisations to address key threats to the ocean such as climate change, marine debris, marine habitat loss and marine species decline.

The grants are awarded to ocean protection projects and initiatives in support of the United Nations Decade of Science for Sustainable Development, spanning across five distinct categories: coral restoration, developing marine protected areas, eliminating marine debris, reducing the effects of climate change, and protecting species threatened with extinction (such as sharks and turtles). The selected initiatives fuel both local and global ocean change. In addition to corporate sponsors, including ourselves, PADI AWARE has dedicated nearly one-quarter of its public funds to further support recipients this year, with the ultimate goal to substantially increase funding to $5 million by 2025.
"Last year we launched the Grant Programme to directly support PADI Members and NGOs driving meaningful conservation projects, often who have little or no funding support," says Danna Moore, PADI AWARE Foundation's Global Director." This year, due to the collaboration with Medik8, we can provide more resources directly to local communities that need them most. Medik8 is a like-minded organisation that shares our science-based, sustainability-driven, and community-oriented values – and will be a strong partner committed to helping us create positive ocean change."

The first grant recipient we will be sponsoring is the Kosamare Seagrass Restoration project. This hands-on initiative seeks to engage the local community in Kefalonia, Greece to monitor and restore seagrass (Posidonia) meadows in the Mediterranean Sea. Now in the second of three phases, the project is taking place in four different bays off the coast of Kefalonia.
The first phase saw the monitoring of seagrass meadows in the north of Kefalonia through aerial photography and underwater surveys where citizen-science divers measured fish biodiversity and the overall health of the seagrass meadows. This allowed for the informed selection of the priority areas for permanent eco-moorings and restoration work. Eventually, the permanent introduction of eco-friendly moorings will help to prevent future damage from boating while direct restoration of the seagrass itself will help to revive critical habitats as well as blue carbon sinks (which naturally store carbon, helping to mitigate climate change).

This particular project also has a significant community component. The PADI AWARE team is engaged with the local community to obtain their support and buy-in, as well as their help in rallying for protection legislation in the area. The ultimate goals for this project are to significantly increase the seagrass meadows (a blue carbon habitat), increase biodiversity through associated species that are reliant on seagrass beds, and to advance protection measures for the wider Ionian sea.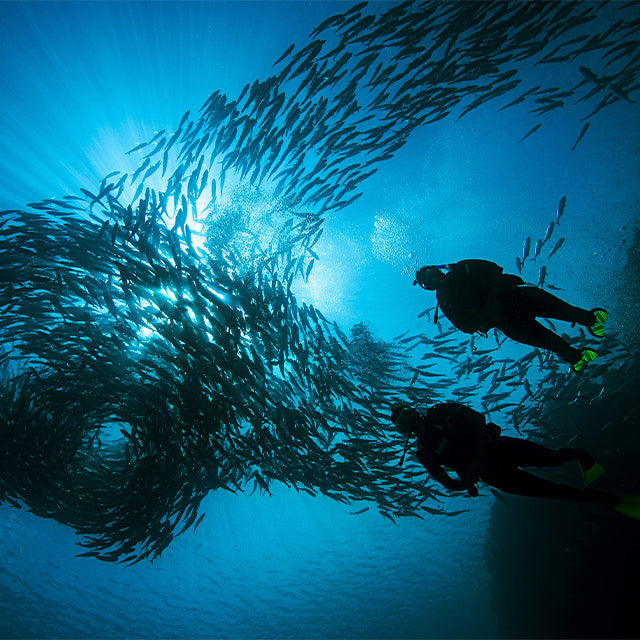 JUST A DROP IN THE OCEAN
This is only the beginning for this partnership. We are set to sponsor 3 more global, ocean conservation initiatives this year - all of which will be part of PADI AWARE's Community Grant Programme. The details of these projects will be announced soon, so watch this space!

It is our sincere hope, and the hope of PADI AWARE Foundation™, that our collaboration will demonstrate the potential and ability of small organisations and communities to join forces and mobilise for significant change in the face of the climate crisis - a dark threat we face as one planet.

To discover more about our partnership with PADI AWARE Foundation™ and our wider sustainability blueprint, visit: medik8.com/eco
About PADI AWARE Foundation™:
PADI AWARE Foundation™ is a non-profit public charity that drives global ocean conservation through local action. PADI AWARE Foundation engages divers and people everywhere to take conservation actions that heal and protect the ocean and planet both above and below the surface, further elevating and supporting PADI's vision to achieve balance between humanity and ocean. Backed by the power of the PADI® brand and supported by the world's largest global network of 6,600 dive centres and resorts and more than 128,000 professional members worldwide, PADI AWARE Foundation leverages the collective influence of divers and the dive industry to address key threats facing the marine environment including climate change, marine habitat loss and vulnerable species protection. PADI AWARE Foundation advances its mission and the PADI Blueprint for Ocean Action through underwater citizen science, public policy, education and community grants. www.padiaware.org

*EBITDA: Earnings before interest, taxes, depreciation, and amortisation