The World's First Clinical Strength Retinal for Under Eyes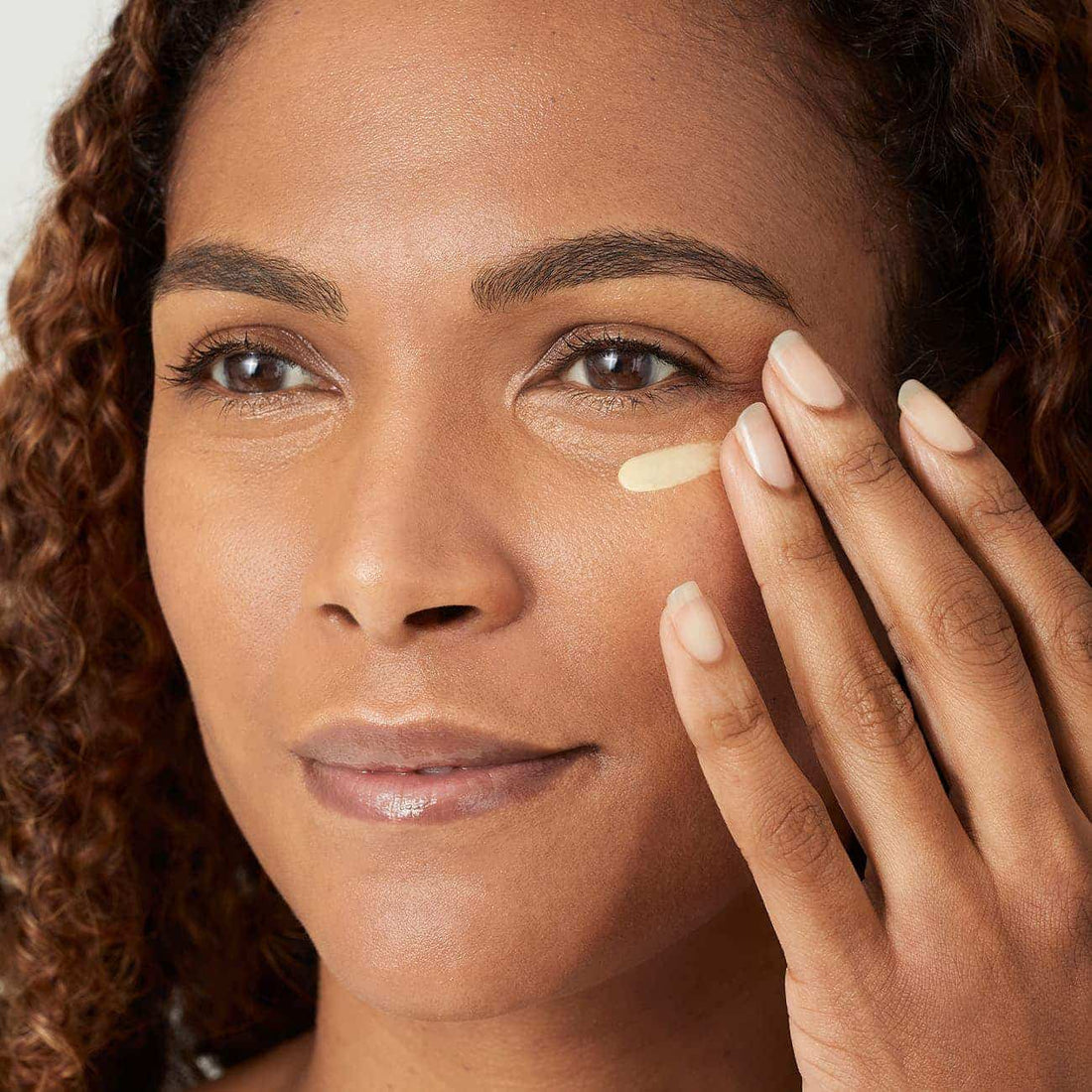 Vitamin A (retinoids) is one of the most powerful ingredients for use around the eye area, as it serves the unique needs of the delicate skin around the eyes. However, often vitamin A is avoided for use around the eyes as it is known to be potentially irritating.

The eye skin is very different to that of the facial skin. It is:
• Thinner
• Prone to sensitivity
• Drier
• Expressive (lots of muscle movement)


All major eye skin concerns can be addressed with vitamin A. It can help to boost collagen production, skin barrier function and cell renewal - all of which can help to target the most common signs of skin ageing around the eyes including wrinkles, crow's feet, frown lines, dehydration lines, dark circles and puffiness.

This highlights a core need within skincare. Vitamin A is key to solving various issues around the eyes. However, effective vitamin A and retinaldehyde in particular (our next-generation form of vitamin A), is incredibly rare to find in formulations for the eye area due to sensitivity concerns. The few that are available on the market often compromise on their results by reducing the level of retinal power to ensure skin comfort.

As the Experts in Vitamin A, we wanted to solve this core eye care need with retinal (retinaldehyde) - the star of our cult-favourite product, Crystal Retinal. The key was formulating an eye-optimised retinal product with gentle yet effective power.

Introducing Crystal Retinal Ceramide Eye; the world's first clinical strength retinal for under eyes. It features multiple optimisations to ensure that the power of retinal is harnessed in an eye-friendly formulation.
Twin-Encapsulated Retinaldehyde
Crystal Retinal Ceramide Eye features an eye-specialist, ultra-slow release retinal delivery system to ensure that the clinically proven formula remains gentle on the delicate eye area.

We use 2 forms of retinal encapsulation; a blend of crystal-encapsulated retinaldehyde & microsponge-encapsulated retinaldehyde.

Crystal = smaller size, slow release
Microsponge = larger size, even slower release


The Result:
A gradient effect, ultra-slow release of retinal into the skin to mitigate irritation around the very delicate eye area. This allows Medik8 to use higher strengths of retinal for clinically-proven results on signs of ageing, without having to compromise on skin comfort at any point. In fact, when put to the test, 100% of sensitive skins found Crystal Retinal Ceramide Eye 3 to be gentle on their skin - even from the very first use.[1]

*24 hour results proven within independent clinical study on 38 volunteers over 12 weeks.
94%
Showed a clinical improvement to the look of wrinkles around the eyes, with just 1 use[2]

100%
Of sensitive skins found Crystal Retinal Ceramide Eye to be gentle on their skin[1]


Retinal Ladder for Eyes
Find your match. Crystal Retinal Ceramide Eye is available in a series of 3 progressive retinal strengths to ladder up results when you're ready (0.03% - 0.1% retinal). Our lowest strength (3) is designed for very sensitive skins or those new to vitamin A, while the higher strengths give more experienced vitamin A users the opportunity to intensify their results over time. With Crystal Retinal Ceramide Eye, we have introduced progressive results to the retinal eye category - to ensure your results always peak, never plateau.
All-In-One Eye Dream
Crystal Retinal Ceramide Eye is designed to be everything your eyes need in your evening skincare regime - a one step solution so you can wake to visibly brighter, more youthful-looking eyes. Formulated into a perfectly structured eye cream that's lightweight, fast-absorbing yet nourishing on the skin, Crystal Retinal Ceramide Eye features not only retinal, but other key components to benefit your PM eye care routine.

Ceramides infuse the skin around the eyes with deep overnight nourishment, visible restoration and skin barrier support to prevent dryness, dehydration and crepiness around the eye area. This leaves the skin visibly firm and smooth after use - with 98% of users agreeing that Crystal Retinal Ceramide Eye delivers long-lasting moisturisation.[1] Ceramides join gentle forces with chamomile extract to soothe the eye area overnight, ensuring total comfort during retinal rejuvenation.


Crystal Retinal Ceramide Eye also introduces a new innovative ingredient to Medik8's ingredient repertoire; hyaluronic acid filling spheres, which are essential for the cream's speedy visible results. They are a type of hyaluronic acid, formed of dehydrated spheres that can expand in size when hydrated, swelling under the surface of the skin to visibly fill in and smooth the look of fine lines and wrinkles. They leave the skin looking plump, youthful and hydrated by morning.

Sleep peacefully with the knowledge that your nighttime eye cream has the gentle power to deliver an overnight youth boost that's expertly optimised for the delicate eye area.
SHOP NOW
[1] Proven via independent consumer study on Crystal Retinal Ceramide Eye 3 conducted over 6 weeks on 50 participants
[2] Proven via independent clinical study on Crystal Retinal Ceramide Eye 6 conducted over 12 weeks on 32 participants