What are AHAs, BHAs and PHAs?
With so many exfoliating acids to choose from, it can often be difficult to know which ones will meet your specific skincare needs and goals but, exfoliating acids can be your skin's superhero. Not only do they exfoliate, but they can help to smooth, visibly brighten and unclog pores for a more clarified, radiant complexion. They are some of the most well-researched ingredients in skincare and they have the potential to transform your skin in just a matter of weeks. 
At Medik8, we have 3 categories of exfoliating acids that we use within our products and treatments.
AHA - Alpha hydroxy acid. These are usually water-soluble and work to exfoliate the upper layers of the skin. Examples include glycolic acid, lactic acid and mandelic acid - see Sleep Glycolic (our 10% glycolic acid at-home peel) or Pore Minimising Tonic (which contains a blend of lactic and mandelic acids).

BHA - Beta hydroxy acid. They are oil-soluble and can therefore penetrate deep into pores, unclogging blockages to prevent blemishes from forming. Examples include salicylic acid which can be found in our Blemish Control Pads, Blemish SOS and breakthrough toner Press & Clear - at a maximum strength of 2%.
PHA - Polyhydroxy acid. Water-soluble and made up of larger molecules, they work on the top surface layer of the skin. Examples include gluconolactone which can be found in our everyday, twice a day acid toner, Press & Glow.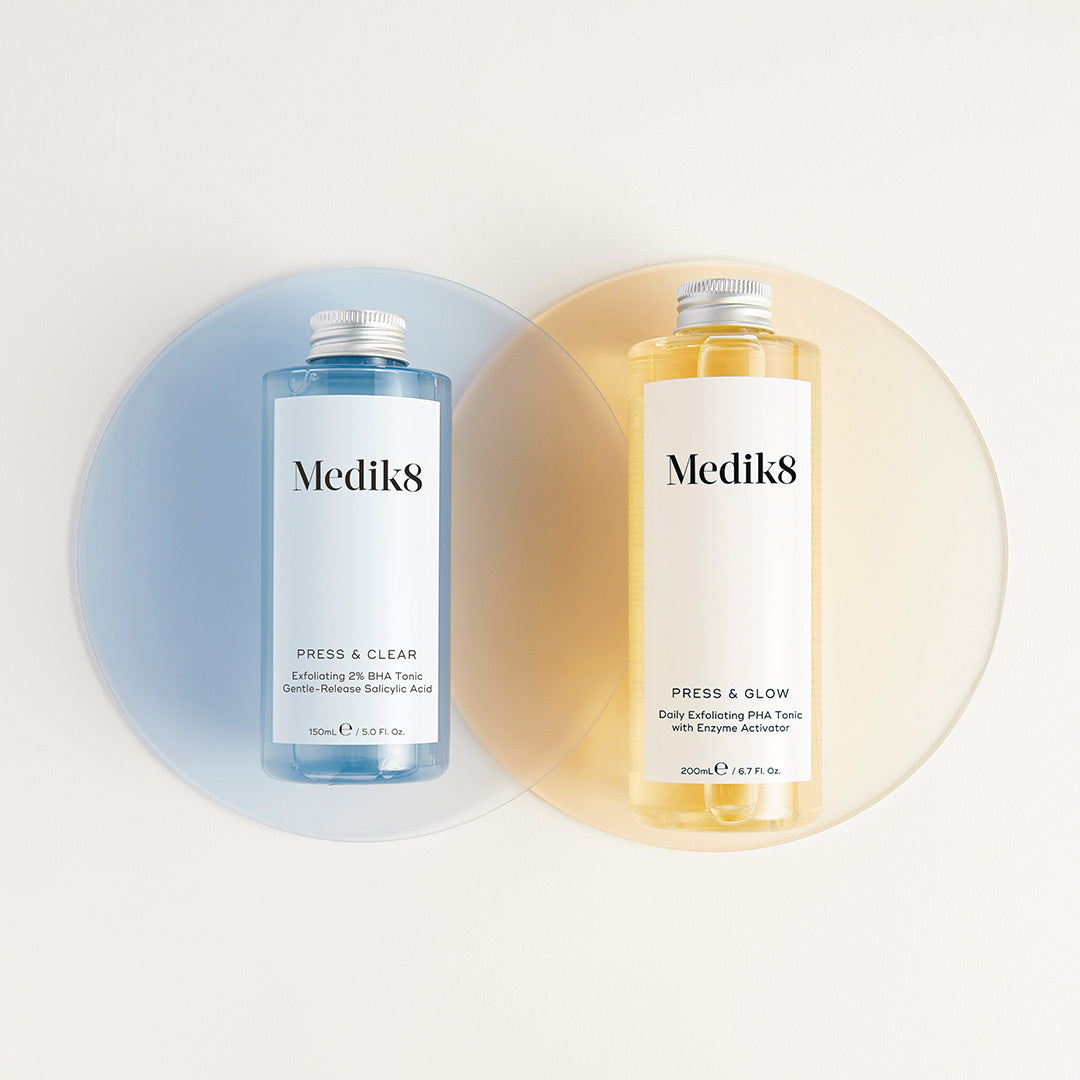 Can you use multiple exfoliating acids together?
Overuse of high-strength AHAs, BHAs and PHAs everyday can leave the skin barrier impaired, leading to sensitised and dry skin. If you want to introduce an everyday, twice-a-day exfoliating acid to your routine, we recommend our clinically proven PHA toner, Press & Glow. Its carefully-curated ingredients boast hydrating and barrier-supporting qualities, a far cry from the common downsides of traditional exfoliating acids.


At Medik8, we advise against layering acids in a single routine. If you use too many exfoliating acids, your skin can become irritated and stripped of its natural moisture and oils. When layering your skincare, start with one exfoliating acid - either daily or every other day, depending on how sensitive your skin is. Work in other treatments throughout the week if your skin feels comfortable and always patch test first. Refer to patch test for an in-depth guide to patch testing.
We recommend choosing one exfoliating acid (Sleep Glycolic, Press & Glow, Press & Clear, Pore Minimising Tonic, Blemish Control Pads, Glycolic Acid Activator) for use in a single routine - either AM or PM. For example, if you regularly use Press & Glow twice a day (as per our directions of use) and want to use Sleep Glycolic as well, we would recommend avoiding using Press & Glow in your evening routine where you are going to use Sleep Glycolic. One exfoliating acid per regime will ensure you don't overexert your skin barrier.
Can I use AHAs, BHAs and PHAs with vitamin A?
Yes, you can combine vitamin A with an exfoliating acid. This can be a particularly effective combination for visibly improving the look of hyperpigmentation or post-blemish imperfections. However, we advise that you do not use the two ingredients in the same routine as this can cause dryness and irritation. Instead, we would recommend using either Press & Clear or Press & Glow in the morning, then vitamin A as part of your evening routine.
What are the benefits of exfoliating acids?
1. Removing dead skin cells: Exfoliating acids work by dissolving the bonds between dead skin cells, allowing them to be easily removed from the surface of the skin. This helps to reveal a smoother, brighter, more even-toned complexion.

2. Clearing pores: Exfoliating acids can penetrate deep into the pores to clear out dirt, oil, and other impurities that can ultimately lead to breakouts and blackheads.

3. Increasing cell turnover: By removing dead skin cells, exfoliating acids can help to stimulate the production of new skin cells, which visibly improves skin texture and tone.

4. Improving skincare product absorption: By removing dead skin cells and clearing pores, exfoliating acids can help to improve the absorption of other skincare products in your routine, allowing them to work more effectively.

5. Youth-boosting benefits: Exfoliating acids can help to smooth the appearance of fine lines and wrinkles by promoting cell turnover and even supporting collagen production.

It's important to note that exfoliating acids can be powerful and can sometimes cause irritation, especially if you have sensitive skin. That's why Medik8's exfoliating acids are expertly formulated with encapsulation and time-release technologies to ensure powerful yet gentle performance. If in doubt, it's always a good idea to start with a lower concentration and gradually work your way up with usage to avoid irritation.
Supercharge Your Results
Quick View
Daily Exfoliating PHA Tonic with Enzyme Activator
200ml / £28
Quick View
Exfoliating 2% BHA Tonic
Gentle-Release Salicylic Acid
150ml / £34
Quick View
Time Release AHA Overnight At-home Peel
30ml / £39